Menu



Notice
The 'Final' 9/11 Commission Report, released 7/22, is not complete. What about the Pentagon video frames (CNN)?



The commission's "Team 8" looked into them, yet they were omitted from the 'complete' final report!!!

---

BTW, have you ever seen the unbelievably bogus forged Niger uranium documents? (ABC NBC)
The 2nd WTC aircraft

In the USA, this 9/11 video was broadcast once and only once! Fortunately, we had our VCR recording away at the time...
the 2nd WTC aircraft (Pavel Hlava) (277K QuickTime6)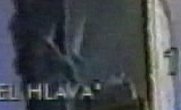 This video was supposedly shot entirely by a Czech immigrant named Pavel Hlava. It surfaced in 2003, and was broadcast September 11th, 2003 on ABC's Good Morning America TV show, never to be aired again! The New York Times also published an image from this video. (download)

Here is the complete presentation, all 1 minute and 22 seconds, of the Pavel Hlava video as seen on ABC's Good Morning America. Note that, in the first shots, the blue sky is filled with green analog tape noise, but the visual noise in the blue sky is much less, and mostly red, for the second hit. watch it now or download it

We're sorry we do not have a crisper view of this video. We are left to speculate why NASA has never enhanced any of the 9/11 videos...
The best we can do is show you what a 767 is supposed to look like - remember that a 767-322 is 20 feet (6 m) longer than the 767-222 that departed Boston as Flight 175 (we don't know for sure what hit the towers).
The first 3 links are to images of the actual registered aircraft which took off on 9/11 as Flight 175, the next link is to a search results page at airliners.net, and the remainder are to other images of 767s:
August 2001
March 2000
April 2000

United Airlines 767s

767-222 9 o'clock Low
767-222 9 o'clock low
767-222 yet another...
767-222 from 10 o'clock
767-322ER from below
767-322ER from below
767-322ER 10 o'clock low
767-322ER 9 o'clock low
767-322ER from 8 o'clock